ATSILS (QLD) a joint winner at the 2021 Queensland Reconciliation Awards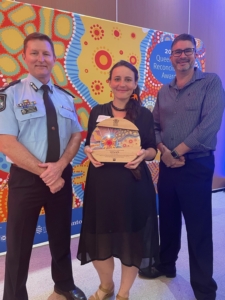 The Aboriginal and Torres Strait Islander Legal Service (QLD) Ltd was a joint winner last night in the "Partnership" category of the 2021 Queensland Reconciliation Awards for our work with key partners in delivering the Northern Peninsula Area Licensing Muster Initiative.
We would like to extend our congratulations also to key partners involved in the initiative – Northern Peninsula Area Justice Services Aboriginal and Torres Strait Islander Corporation (NPA Community Justice Group) and Queensland Police Service (Bamaga Station).
The award is a great credit to our team up in the Torres Strait and NPA regions and in particular Annabelle Craft (our Prevention, Intervention and CLE Officer)– whose professionalism and hard work was a key driver of the partnership initiative.
We'd also like to acknowledge C'Zarke Maza our Regional Manager in the NPA and Torres Strait regions, who first raised the challenge surrounding unlicensed driving charges in the regions with the executive – which was then taken up at the departmental level by Shane Duffy our CEO. Whilst with departmental support the wheels were put in motion, it would have been easy for the initiative to grind to a halt – but with Annabelle at the steering wheel, such was never going to happen.
The Northern Peninsula Area Licensing Muster Initiative is a justice reinvestment strategy that has been providing cross-agency, holistic, evidence-based, proactive, and culturally safe support to the five communities of the NPA around licensing, registration, and identity documents since 2019.
The initiative aims to reduce unnecessary contact that Aboriginal peoples and Torres Strait Islander peoples experience with the criminal justice system related to driving and vehicle related offending. Such contact often leads to offenders being sent to correctional facilities located thousands of kilometres away from their community.
The initiative arose through prolonged observation of the high numbers of community members facing court action and punishment for non-violent driving-related offences, as well as social and economic exclusion. It appeared that many community members lacked sufficient or consistent primary identity documentation, immediately precluding them from accessing the services and opportunities many Australians take for granted.
Congratulations to Annabelle, the team and all partners involved. This initiative is a great example of the targeted impact justice reinvestment strategies can have on addressing the over-representation and unnecessary contact Aboriginal and Torres Strait Islander peoples experience in the justice system.
To read more on the success of this program visit:
https://atsils.org.au/wp-content/uploads/2021/02/atsils_logo_mark_200x200.png
200
200
atsilsadmin
https://atsils.org.au/wp-content/uploads/2023/01/atsils_logo_home-300x152.png
atsilsadmin
2021-06-02 18:11:42
2021-06-02 18:16:07
ATSILS (QLD) a joint winner at the 2021 Queensland Reconciliation Awards