ATSILS Legal Help – Posters
ATSILS has developed a range of legal information posters on key legal issues affecting our diverse communities including domestic and family violence, child protection, SPER debts & accessing legal help. ATSILS encourages individuals, community and partner organisations to share these resources throughout their networks to help us ensure Aboriginal and Torres Strait Islander peoples across Queensland better understand their legal rights and know the importance of seeking legal advice as soon as possible (e.g. well before their matter is before the court).
The posters are provided in A3 PDF format below and are suitable for printing and sharing via email, web and socials. The posters can be printed at A4 also by selecting "Fit to Page" in your print settings. Many organisations have already requested copies and have them on display in their waiting rooms, reception areas, lunch rooms and community information boards across the state. If you would like pre-printed hard copies please contact our Brisbane office and we will arrange to have them posted out to you.
Enhancing access to justice is a critical element in addressing the over-representation of our people in the child protection, youth justice and criminal justice systems. Helping us to increase community awareness in relation to these issues and the need to seek legal help early, can help stop more minor family, financial or debt issues from spiralling into major legal issues that put our people on pathways to detention and imprisonment unnecessarily.
Child Protection
Download Poster – Child Protection Matters (PDF)
---
Domestic and Family Violence
Download Poster – Domestic Violence Matters (PDF)
---
SPER Debts
Download Poster – SPER Debts (PDF)
---
Rights, Respect & Responsibilities
Download Poster – Rights – Respect – Responsibilities (PDF)
---
Need Legal Assistance? – Contact ATSILS
Download Poster –  ATSILS Legal Help – QLD (PDF)
---
ATSILS Statewide Service Delivery – 20+ Locations Across Queensland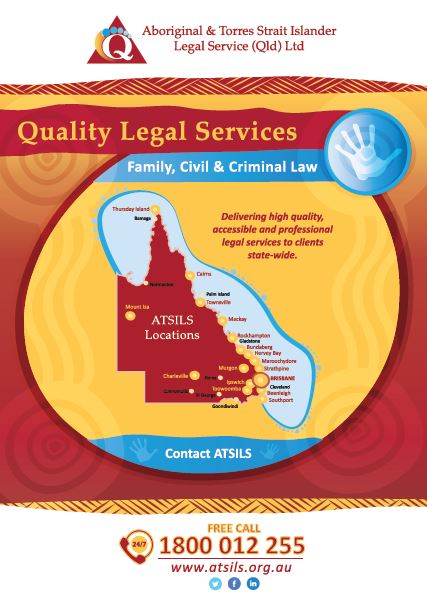 Download Poster –  ATSILS Statewide Service Delivery – QLD (PDF)
---