Licencing Muster in the Northern Peninsula Area – September 2019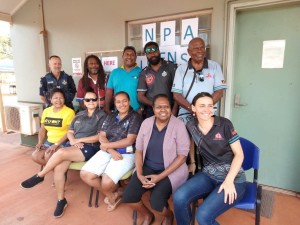 Following the success of the first ever NPA Licensing Muster in July 2019, ATSILS has again combined forces with the Queensland Police service, Department of Justice and Attorney-General, Department of Transport and Main Roads (Licensing Mob), NPA Family and Community Services and the NPA Community Justice Groups to deliver a 'Licencing Muster' event in the NPA region on 12 September 2019.
This community event is an opportunity for the five NPA Communities (Injinoo, Umagico, Bamaga, New Mapoon and Seisia) to have unprecedented access to licensing and identity document-related services from a range of service providers. Eleven staff from seven different government and non-government service providers worked together on the day to service well over 80 community members to assist with a range of licensing and identity related issues. This is over triple the number who attended the last Muster in July, demonstrating continued and growing need for such Musters in the NPA.
As ATSILS CEO Shane Duffy has explained:
"These programs are important intervention and prevention approaches that are critical to blocking the fast lane to prison for many Aboriginal and Torres Strait Islander people in remote communities. In consultation with the current Magistrate in the NPA region we put a spotlight on the disproportionate number of licensing issues ending up before the courts and the unacceptable social and economic costs to these communities.
In response we tasked our Prevention, Intervention and Community Legal Education Officer in the region to take the lead in coordinating key stakeholders to work together to develop solutions to address the underlying challenges that fuel this issue. These challenges include simple things we take for granted in urban areas, such as adequate access to basic licencing and registration services. ATSILS has long been a strong advocate for a smarter approach to this justice issue, and these Licencing Musters are examples of the important elements needed in the fabric of broader justice reinvestment strategies that can create stronger, safer communities in the region. The success of these programs to date is a credit to the vision and hard work of all involved."
Building on lessons learnt from the last Muster, several targeted events were also offered in the lead-up to the big day on 12 September. Two Learner Licence workshops run by the Indigenous driver Licence Unit (Licensing Mob) were held prior which were targeted at Community Development Program (CDP) Participants and kids in years 10-12 at NPA State College who were eligible to receive their learners prior the Muster. Everyone who attended the Workshops passed their learner theory test and many went on to secure their learner licence at the Muster. However, inconsistent ID and lack of funds unfortunately remained a barrier for some who passed the test, and we intend to continue to work with those community members, so they are ready to get their licence when the next Muster comes to town.
Proactive assistance was also provided to the NPA communities with identity related issues in the lead up to the Muster, so they could have the necessary Evidence of Identity (EOI) required by the Licensing Mob sorted. This was in direct response to our understanding that inconsistent or insufficient identity documents is a major hurdle for community members in getting their licence. We therefore worked closely with the NPA State College, NPA Family and Community Services and the Registry of Births, Deaths and Marriages to run an "Identity Drive" in the weeks prior. This resulted in over 20 birth certificate applications being lodged, as well as a number of birth registration and change of name applications. Many who were able to get their birth certificate at the Identity Drive were then able to attend the Muster and sort out their licence because they had enough EOI.
The Licensing Muster events continue to demonstrate the need for more proactive and intensive support for licensing and registration services in the NPA. Although we were able to help a significant number of people on the day, it was obvious to all service providers that consistent Muster events will be necessary to meet the enormous demand for services in the region that is currently going unmet.
We are hopeful that regular Licensing Musters (perhaps every 2-3 months) and continued interagency support would make a dent in the astronomical rates of unlicensed and unregistered driving in the NPA, and ultimately lower the numbers appearing before the Courts on related charges each month.
We are also aware that these licensing and identity issues, and lack of access to services, is also a significant problem for the Torres Strait region, especially the Outer Islands where no licensing services are available except through infrequent visits from the Indigenous Driver Licence Unit (Licensing Mob). We are committed to exploring further opportunities for replicating the Licensing Muster model in these communities as well, depending upon the continued commitment of all agencies to collaborate and resource such activities going forward.
We plan to hold the next NPA Licensing Muster in November 2019 (date TBC) and plan to build on both the successes and lessons learnt at this Muster to provide an event better Muster next time.
https://atsils.org.au/wp-content/uploads/2018/02/fav_new.png
180
180
atsilsadmin
https://atsils.org.au/wp-content/uploads/2023/01/atsils_logo_home-300x152.png
atsilsadmin
2019-09-24 17:38:20
2020-09-15 18:48:17
Licencing Muster in the Northern Peninsula Area – September 2019